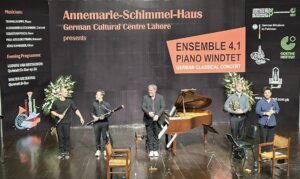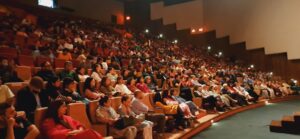 This year, for the first time the Annemarie-Schimmel-Haus (German Cultural Centre Lahore) is partnering with The All Pakistan Music Conference 2023 and bringing the renowned Ensemble 4.1 to Lahore.
The Ensemble consisting of a pianist and four wind instrument players, will be performing pieces by Ludwig van Beethoven and Walter Gieseking on Monday, October 23, 2023 at 8 pm  in Hall # 1 at the Alhamra Art Centre,The Mall, Lahore.
This concert is part of the ensemble's Pakistan tour during which they will perform in Karachi, Hyderabad, Lahore and Islamabad.
Evening Programme:
Ludwig van Beethoven: Quintett Es-Dur op.16
Walter Gieseking: Quintett B-Dur
About the ensemble
Exactly ten years ago, an invitation from the then director of the Goethe-Institut Karachi to perform in Pakistan gave the initial impetus for founding the 'ensemble 4.1', the only piano windtet of this kind in the world. 125 concerts, 2 CDs and an 'OPUS Klassik' nomination later, the ensemble is celebrating its tenth anniversary this year by performing in the Berlin Philharmonic, the Elbphilharmonie in Hamburg, the Wigmore Hall in London and the Carnegie Hall in New York.
And of course, the anniversary celebrations would not be complete without holding concerts in Pakistan marking a return to the ensemble's "birthplace".
More information about him, kindly visit: https://four-point-one.de/