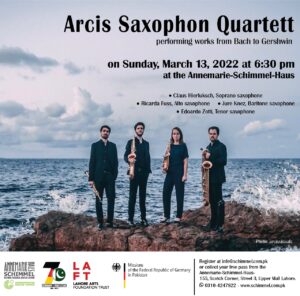 For Registration: Kindly send us an email with your name, cell no & CNIC no. at info@schimmel.com.pk or collect your free pass from Monday, March 7, 2022 from the Annemarie-Schimmel-Haus Lahore.
About Arcis Saxophon Quartett:

"A fantastic ensemble that's 'on fire', innovative, and hell-bent on high-quality music making." (Enjott Schneider)
These four charismatic young musicians from Munich, set audiences aflame with their authentic stage presence, spark-throwing enthusiasm and burning passion for this rare form of chamber music. In their highly professional, precise interpretations, they explore the relationship between individual expressivity and the interwoven quality that makes chamber music what it is. And in doing so, they captivate listeners with their joy of playing and expressive depth.
The ensemble was founded in 2009 at the University of Music and Performing Arts Munich, and studied chamber music under the Artemis Quartet with additional instruction from Koryun Asatryan and Prof. Berger in Munich. The quartet has been a member of the European Chamber Music Academy since 2014.
2013 saw the release of their first CD, "Arcis Saxophon Quartett spielt Enjott Schneider", on Ambient Audio. In 2017 their CD "Rasch" was released on Genuin.
The ensemble's activities were marked by important international accomplishments: first prizes in Munich (and Audience Prize), Gioia del Colle (Italy) and Moscow in 2013, third prize in Chieri (Italy) followed by a second prize in Berlin in 2014, as well as first prizes in Magnitogorsk (Russia) in 2015 and in Berlin in 2016. Furthermore, the ensemble was honored with the Bayerische Kunstförderpreis in 2016 and awarded with the Scholarship of the Theodor-Rogler-Foundation, a Scholarship of Music by the City of Munich and a Scholarship by the Erika and Georg Dietrich Foundation.
In addition to concert performances in Germany and across Europe (e.g. Philharmonie Munich, Philhar-monie Berlin, Wigmore Hall London, Tchaikov¬sky Conservatory Moscow), the quartet went on concert tours in China, Russia, Saudi Arabia, Bahrain, Algeria, Morocco, Ecuador, the USA … and now Pakistan.